Jonathan Day, known by his stage name JJ Da Boss is one of Memphis's biggest racing gamblers and the fastest racer. He is a race car driver, entrepreneur, and business owner. Moreover, when it comes down to racing, he is the most feared person on the streets of Memphis.
JJ has gained high fame as a reality star through his appearance in the Discovery TV show Street Outlaws. In the show, he appears alongside his wife, Tricia Day, who seems much younger than him.
Thus, the couple's fans have grown curious to know about their love story and the age gap they share. The article below brings you details about JJ Da Boss and his partner, Tricia Day's love life, age difference, and kids.
How did JJ Da Boss and his Wife Tricia Day meet? Love Story
Tricia Day, also known among Street Outlaws fans as Midget, is married to the show's star racer JJ Da Boss. JJ first introduced her as his wife in January 2018 on the show Street Outlaws Memphis. The couple is parents to their four beautiful kids.
In regards to personal life, both JJ and Tricia share similar views. They prefer low-key private life and thus, discuss very little about their family, kids, and life before marriage. They are also yet to disclose the dates of significant life events like their first meet, wedding, anniversary, etc. However, during an interview with Monsters & Critics in 2018, JJ said he was with Tricia for around ten years.
JJ Da Boss and Wife Age Difference
The reality star JJ Da Boss took birth as Jonathan Day on 10 August 1973 in Arkansas, USA. Growing up in a city called Joiner, Arkansas, he developed a strong passion for racing cars.
At just ten years old, he began driving race cars and started racing on the roads of Mississippi. Although his parents were involved in the roof fixing profession, JJ opted to work with cars.
He would save every penny he could and use them to fix old cars. Eventually, he rose from the streets to become the meanest and fastest racer in Memphis.
Currently 50 years old, JJ Da Boss is married to his racing partner Tricia Day aka, Midget. She has chosen to keep her date of birth a secret. However, she was born to her father, Terry Welch, in Arkansas, USA, and grew up at the same time as JJ, i.e., Joiner.
Now, regarding the couple's age difference, there is no exact number available due to Tricia's birth date unavailability. However, considering their appearances, it is safe to assume that Tricia is around her early 40s while JJ Da Boss is already 50 years old.
Tricia Day is famous in her own right.
Like her husband JJ, Tricia has been very passionate about car racing and sports cars from a very early age. Despite being popularly famous as the wife of celebrity husband JJ Da Boss, Tricia has made a good name for herself in the racing streets. S
he stars in the popular racing show Street Outlaws: Memphis on Discovery.
In addition, she has recently signed up for a new show Street Outlaws: Gone Girl, on the same channel. The show started airing in September 2021 and included casts like Courtney Anton, Precious Cooper, Chelsea, and many other female racers.
Prior to appearing on Street Outlaws series, Trica has also featured on another racing show, Asphalt. She starred along with JJ Da Boss, and right from her debut, she became a significant hit. In the show, she was awarded the title of 'Queen of the Streets.'
JJ Da Boss's son Doughboy is a Street Racer too.
The celebrity racer's eldest son Josh Day aka, Doughboy, has grown to walk in his footsteps. Born and raised in Joiner, Arkansas, on 31 December 1990, Doughboy spent most of his childhood around cars and racing tracks. Thus, like both his parents, he started driving and racing from an early age.
Doughboy debuted on TV in January 2018 with a race in Street Outlaws: Memphis. He drove his father JJ's car 1962 Impala for the day as he was yet to own his own car. Josh shares the same passion and love for the streets as his father, and we hope we get to see more of him in the coming days.
Why is Doughboy not on the show? Where is he now?
There are rumors that Doughboy is serving his time in jail due to legal issues. However, according to his father, JJ Da Boss, Doughboy had a serious accident that injured his back. After the spinal injury, Doughboy is hospitalized and is currently in recovery.
After his disappearance, his wife made an entry on the show. There is no telling where Doughboy will be back. We wish him a proper recovery and a comeback on the show.
JJ Da Boss Children with Tricia Day
JJ Da Boss and Tricia Day have become parents to four children from their decade-long marital life. They have three daughters Aubrey, Annalise, and Vada, and one son, Luke. Although Tricia is not available on social media, JJ regularly posts pictures of his kids on Instagram. He is available on the Instagram handle as jj_da_bossmso with over 177K followers.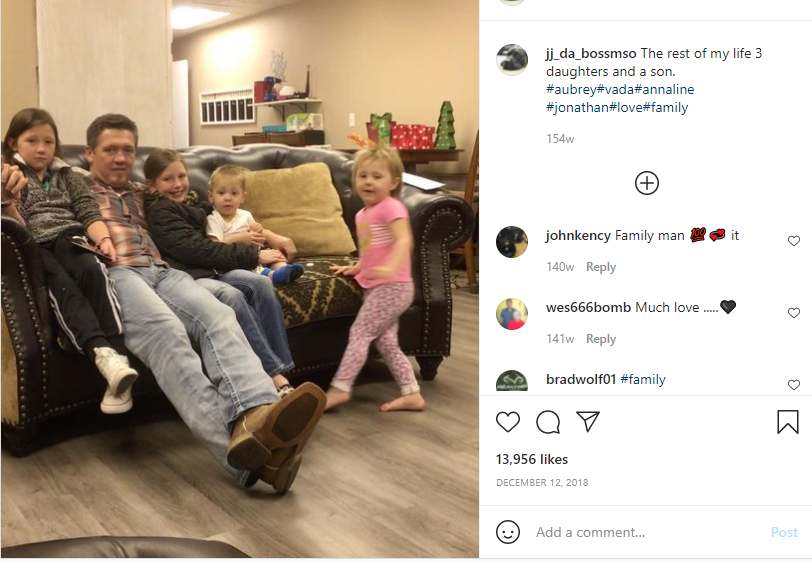 In addition, JJ Da Boss has seven more children from his previous marriage. He has not given out his ex-wife's name, but he frequently speaks of his seven kids. He is also a grandfather of two little kids from his eldest son Josh Day, also famous on racing tracks as Doughboy.