For once, forget the sleek race cars that the world seems to be crazy about today. Yes, take a break! Why don't you cross over here to the world of real car lovers, the world of classic automobiles? That's where the real deal is.
Now, in the world of classic automobiles, some names and icons have made landmark impacts and have endeared themselves to many households over the years. Mark Worman is one of such. He is a legendary American car aficionado who week after week brings smiles to many a face with his expertise, comic ingenuity, and intriguing dance steps.
Mark is undoubtedly the force behind Graveyard Carz; the noble TV reality shows that has convinced thousands not just to give up on their deadbeat cars yet. Of course, you want to know more about Mark Worman, his family, and related things. You are at the right place. So, why don't you relax? Here are 16 intriguing facts about the life of this legend.
1. Age & D.O.B.
Mark Worman was born in Springfield, Oregon, USA. He was born on August 21, 1962, so that makes him about 61 years of age as of today.
2. Family Background.
Mark Worman's early years were spent with his family in Springfield. He lived together with his older sister, Tara Worman, and his mother, Ruby. That was where Mark's grit, seen today, was birthed.
He was forced to find the courage to take care of the family after the death of his father at a very tender age. He was only 12 at the time. That's inspiring.
3. Passion for Cars.
Mark Worman has developed a great passion for nice cars as a child. Sources have it that there were a lot of car-related magazines and books in the Worman household and that the young Mark would pore over them for long hours.
Since he also had to take care of the family financially, Mark began working at a couple of automobile repair shops and garages after the death of his father.
He got his first car at 16 – a 70's Dodge Charger with a 363 two-barrel. Certainly, he's not looked back since. The work he was exposed to further fueled his passion for the field and laid a marvel foundation for the icon he has become today.
4. Education
As a result of a couple of personal problems Mark had to face at a young age, he had to drop out of Springfield Jr. High for a while. Some of these problems included the loss of his father and a health issue he was personally facing.
Despite these challenges, Mark remained resolute. Mark finally earned his high school diploma at Lane Community College when he turned 16. Other than this, not much else is known about his education.
5. Shop & Business.
Mark gathered a lot of experience and skill for automobiles by working in local garages and repair shops. He worked in different areas of car care and repair, from being a pump jockey boy to being a mechanic, and later getting into managerial positions.
In 1985, and when he was only about 23 years old, Mark opened his auto shop named Welby's Car Care Centre.
6. Weight and Height.
Mark Worman doesn't look as old as his age portrays him to be. At 61 years of age, he is still as energetic as one can be. He is 1.75m tall and weighs about 98kg.
7. Marriage.
Strangely, Mark keeps his wife out of the public glare. The only thing that everyone is sure of is that Mark and his wife have a daughter together named Allysa.
There is no news about whether Mark and his wife are still together, but Allysa has been known to talk about her mother from time to time.
8. Daughter.
In sharp contrast to what is the case with Mark's wife, the media can tell that Mark shares a loving relationship with his daughter. There are a lot of pictures that depict the love and care between Allysa and her father, and she regularly starred in her father's reality show from Season 5 to date.
9. Car Collection.
Of course, the media can't give a specific name to Mark Worman's car collection for security reasons. Still, you can bet that he has an impressive collection of Mopar-powered cars.
We know that Mark likes to collect cars, and our sources tell us that he's still looking for his first car, a 1970 Dodge Charger that he got when he was 16.
10. Inspiration Behind
Despite his seemingly private life, one fact that stands out here is that Mark Worman loves putting cars back together. The reality TV show, "Graveyard Carz," was inspired by a wrecked 1971 Plymouth Barracuda, also known as the 'Phantom Cuda,' which Mark brought back in January 2012. It was like magic to the people who had written off the car.
That was the starting point of Mark's fame.  Now, over the years, the show has gained an increasing level of popularity. And Mark, with his team, continues to delight viewers with the restoration process of the rarest breed of written-off Mopar muscle cars.
11. Graveyard Carz
"Graveyard Carz" is an American reality show that first aired on June 14, 2012. And like you already know, the Chief Executive Producer is Mark Worman, who has starred in each of the episodes right from the beginning.
Set in Springfield, Oregon, Graveyard Carz shows the world the process of resurrecting deadbeat Mopar muscle cars. For Graveyard Carz, "It's Mopar or no car!" Being broadcast in the Velocity Network, every Tuesday at 10 pm, Graveyard Carz has had 16 season thus far. The finale episode of the 15th season was aired on March 3, 2023.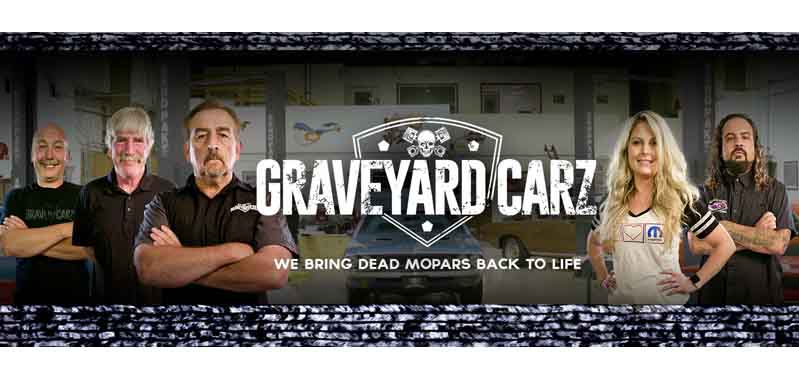 Since then, we have been waiting for the commencement of the 12th season. Well, till now, Velocity is yet to announce if the TV show will have the 12th season or not. We can only cross our fingers and hope for the best.
12. Main Cast.
The reality TV show has a consistent set of characters that features Mark Worman, his daughter Allysa Rose, and the Graveyard Carz team. The team includes Will Scott (the garage painter), Dave Rea (a humorous mechanic), and Royal Yoakum (the carpenter, and perhaps, Jack of all trades who assists other crew members with what's needed per time).
Of course, the show has also featured characters like Josh Rose, Daren Kirkpatrick, Holly Chedester, and Bill Goldberg. Some of these characters, like Holly, have left the show.
13. Net Worth.
It is interesting to note that the year 2023 officially records Mark Worman as having a net worth of over $2 million. It shouldn't be difficult to know where Mark gets his money from.
Mark's wealth has been largely attributed to the huge success of his reality show, which is in partnership with Velocity (now MotorTrend). Mark is also the CEO of his own film production company, The Division.
The Division is responsible for independently producing the "Graveyard Carz" reality show. Apart from the TV show, Mark also makes money from his thriving car business.
14. Mopar Guru.
Mark is already known as the "Mopar Guru," and only a few people can compete with his restorative abilities in the automobile world. He combines a unique mixture of humor and entertainment alongside his skill set on his show: "Graveyard Carz". Don't take my words for it. Find out for yourself – Mark is also a fantastic dancer.
15. Mark Worman is Not Gay.
If you are interested in his sexuality, Mark Worman is straight. Even though not much is revealed to the public about his affairs, we do know he's married once.
16. Social Media Handles.
Mark Worman keeps quite the profile on social media. His posts are primarily related to his passion – restoring written-off Mopar muscle cars, and he regularly talks about his reality show. Mark Worman can be found on Facebook and Twitter.
https://www.facebook.com/graveyardcarz/photos/pcb.10156971555547918/10156971544812918/?type=3&theater
As you can see, Mark Worman shows a sense of unparalleled dedication to his passion. His resilience is top-notch; he presents a vivid picture of someone who will defy all odds to fulfill his dream career.