Street Outlaws racer Dave Daddy is an American adventurer. His actual name is David Comstock. He got his big break with his debut in American Television Show "Pinks". He is a car Expert, Racer, and TV Personality. His driving crew is known as 405. Read this to know Daddy Dave's Net Worth and facts about his wife Cassi Comstock and their Kids.
Street Outlaws Daddy Dave Death is a Rumor.
Is Daddy Dave Dead or alive? In the year 2015, lots of rumors flew in when David's car "Goliath" slipped, and he suffered fatal injuries.
The crash was so severe that many people thought he died and it brought daddy Dave's death rumors. It was a Horrific Crash and a nearly-death experience for David at the Amarillo Drag way. Comstock lost command of his nitro-powered Chevy Nova and hit the wall, then flipped six times at this Texas drag strip.
However, he is alive and yes, he had to lose a very precious thing to him, his car "Goliath."
There have also been his friend Big Chief's death rumors.
David Comstock Career and TV Shows.
Daddy Dave, a popular Reality TV star and racer, was born on April 4, 1973. He is an American National. Moreover, Daddy Dave was born to Caucasian parents, mother Marge Comstock and father Peter Comstock. However, Dave did not reveal more details on his family and parents except for their names.
He grew up in his hometown along with his siblings in Shawnee, Oklahoma. David was interested in cars from an early age.
Soon after he obtained his driving license at the age of 16, Daddy began racing. Though he had problems collecting money for cars and races, he started with his parents' 1978 Chevrolet Impala.
Despite an underperforming car, Daddy Dave began winning races and in no time, became one of the most prominent drivers in Oklahoma.
Street Outlaws Made Him Famous.
By 2009, he soon earned enough money for a new car, a 1996 GMC Sonoma S10 pick-up truck, which was then redesigned to suit him the best. He continued where he left off with his Chevrolet.
Nonetheless, he started with the TV show Pinks, another race show where drivers race for pink slips to their opponent's cars.
But ever since that, he has been devoted to "Street Outlaws," which he received thanks to his friendship with Justin Shearer – better known as Big Chief.
Since 2013 and his first appearance, David Comstock has become the No. 1 Oklahoma driver and has developed a few rivalries on the track, including the one with Shawn. Construction mogul Jackie Knox funded Dave's racing, but they parted ways, and Daddy Dave began his pursuit with his own cars.
'The King of the Street', as he is sometimes referred to, and his years behind the wheel, the fact that he is considered a car expert, and his awesome race ability have all landed him where he is today on the show, and none of it came to him easily or overnight. These factors will likely continue to open doors of opportunity for him in the future.
Daddy Dave Net worth and Cars.
Dave has different sources of money-making ventures, ranging from racing to 'Street Outlaws' which gave him huge fame in The USA. His role on the Discovery Channel reality show brings him about $20k for each episode. According to various notable sources, Dave has a huge net worth of approximately $1 million.
After the crash, Daddy Dave now drives his new car built by himself, which is known as Goliath 2.0. Similarly, Daddy Dave's new car uses twin turbos. Moreover, his race with a Mustang, Goliath 2.0 vs. Mustang, is a video that people watch to date.
Daddy Dave took a lot of time to improve his new car Goliath 2.0, which he became successful at. Street Outlaws Daddy Dave's popular cars also include is the New ProCharger 481X Combo, Goliath 2.0 Nova, S10 dyno, and The Sonoma.
Daddy Dave is married to his wife Cassi Comstock.
It took a long time for Dave to open up about his marriage with his spouse, Cassi Comstock. Apparently, they got married in 2013 and have been together since then. They hold no controversy and rumours of falling apart.
It is known that Daddy Dave and wife Cassi Comstock are entirely in love with each other even after so long. They love spending time with each other and their love can be seen in the posts that they put out for each other. Being together for so long in their married life, Dave and Cassi have a daughter together.
Although David Comstock is secretive about his family it is known that one of them is named Krisyana, who is currently a freshman at Yukon High School. She plays baseball and has been a star player since Middle School.
Daddy Dave's wife Cassi Comstock really loves to hang out with Krisyana and uses '#shesgonnadogreatthing'in photos of her daughter. She posts pictures of her daughters and she is truly a proud mother of both children.
Their daughter Krisyana looks very identical to Cassi. If you look through the comments on their picture together, you will notice fans calling them twins.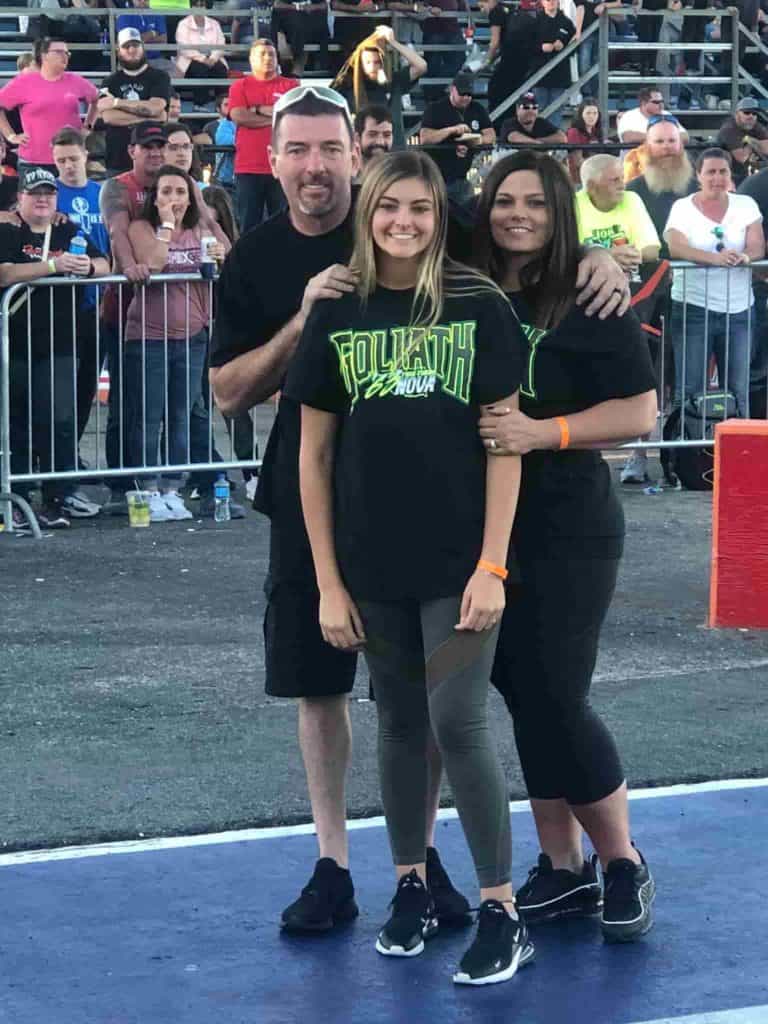 Daddy Dave's wife also has another daughter from a previous relationship; it seems by the name of Shaiah Comstock. Through Shaiah, Cassi is the grandmother of her baby son, Kai. So, Dave is a step-grandfather. If you go through her Instagram profile named Cassicomstock, you can see her post about her grandkid.
Daddy Dave Wiki and Facts.
When it comes to social media David Comstock used Instagram more often and is his go-to to share updates with fans relating to cars and a lot. He has around 589k followers on it. Dave's recent Instagram post was about updating his fans with the reactive status of his website where he has his various merchandise.
Similarly, Daddy Dave's Facebook has 1.4m followers. He is quite up to date with his social media and he likes to keep on updating his Facebook and Instagram feed with racing details and various types of cars.
While it is not official, rumor has it that Dave got his nickname 'Daddy' as he has children by more than one female. Nonetheless, it is confirmed that the two daughters that reside with him belong to him and his wife Cassi. It should also be put out that no other information could be found mentioning any other children belonging to him.