Danny Koker is a Las Vegas-based entrepreneur, television personality, and musician. He heads the band "Count's 77," which he also formed. Some of the band's members are Tommy Paris and John Zito. The hard rock group mainly operates in Las Vegas, Nevada, and plays 70s style music. Read this to know Danny Koker Net Worth.
Danny's other passion lies in the world of motorcycles and vehicles, as he owns a plethora of them. The University of Nevada graduate has made appearances on shows such as David Letterman. So how much is Koker worth? Get a look at some of his houses and cars right here.
Who is Danny Koker?
Danny Koker is a reality TV personality whose fame ballooned after he started featuring on Pawn Stars. The show revolved around Rick Harrison and his family-owned shop along the strip of Las Vegas. His business entails the acquisition, sale, and appraisal of historical items suspected to hold great value.
Besides Danny, the show has starred the likes of Rick Harrison, Austin 'Chumlee' Russell, and Craig Gottlieb. Pawn Stars found its way to our screens back on July 19th, 2009, in the episode titled Boom and Bust. Sixteen seasons later and show is first approaching 600 episodes!
Most appropriately, Danny was first introduced to fans on an episode called 'The Eagle has landed.' He went on to feature on twenty more episodes across a span of four years before he left in 2013. Danny provided his experience and expertise when it came to classic cars and vintage motorcycles.
The "Count's 77" frontman started appearing on television long before this. When he was younger, his family acquired Channel 33. Subsequently, he got the chance to host shows like "Saturday Fright at the Movies."
His first stint on television coincided with his venture into car and motorcycle restoration. To this effect, he set up a customization auto-body shop back in Nevada.
Lest we forget, the "Count's 77" frontman has enjoyed a relatively successful music career. His band has released popular tracks like Lovin' like this and the Summer of '77.
Danny Koker's Net Worth.
The Count's Tattoo shop owner has several businesses going. As aforementioned, he is the proprietor of a tattoo parlor and Grill & Bar eatery. In addition to this, he is also the owner of Count's customs, an auto-body & restoration shop, and Desert Moon, a recording studio.
All of these businesses bring in a substantial amount of income for the Las Vegas-based Rockstar. Whether or not they match up to his earnings on television is another story. To date, he has featured in over 12 reality television shows.
On his latest show, it is estimated that Danny makes $100,000 for every episode he appears in. The cars he restores in his garage are genuine antiques that sell for thousands of dollars. Presently, Danny Koker's net worth stands at $13 million.
Car Collection.
In an interview, Danny admitted to owning about 58 different cars and at least 70 motorcycles! Some of the vehicles you can find in his garage are a 1965 Cadillac Fleetwood Brougham, 1973 Buick Riviera, 1972 Chevrolet Monte Carlo, 1972 Cutlass, 1974 Roadrunner, 1962 Volkswagen Karmann Ghia, 1970 Coronet and a 1979 Chevrolet Camaro Z28.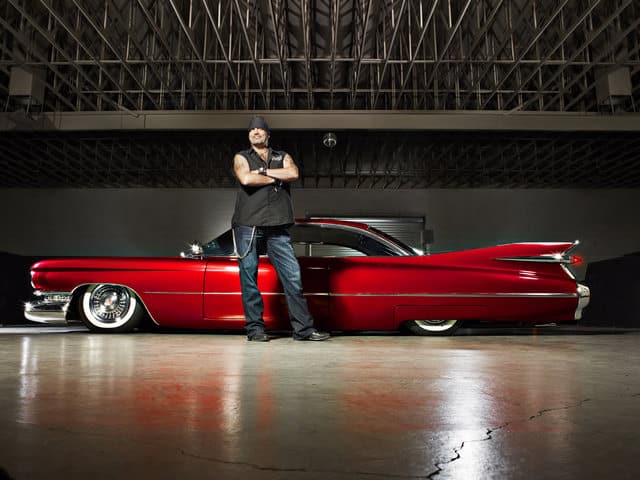 Besides an expansive collection of vehicles in his garage, there are still a few more cars Dan is interested in acquiring. Top on his list is the 1972 Lamborghini Miura SV. While money is not an issue, it's the availability of the vehicle that makes it hard to acquire.
His search has been going on for the last twenty years. The longer it carries on, the more he will have to pay for the vehicle as its value steadily increases.
How old is Danny Koker? Real name.
Danny Koker's real name is Daniel Nicholas Koker II was born on the 5th of January 1964 in Cleveland, Ohio. It makes him 59 years old. Capricorns are known to be assertive, ambitious, and highly motivated; in other words, they make great dealers. The Summer of '77 artist is no different.
Who are Danny Koker's Parents?
Danny is the son of Danny Koker Sr. and Mary Koker. Most people will know Daniel Koker Sr. from his time as a musician. Back in the day, he worked with renowned bands such as the Foggy River Boys.
But perhaps the height of his career came when he got the chance to work with the legendary country singer Johnny Cash. Another career highlight came with over two decades of service to the Rex Humbard Worldwide TV Ministries. It open doors for him, giving him the chance to tour the world.
Besides music, the old man was also an entrepreneur, much like his son, proving that the apple did not fall far from the tree. Back in the '80s, he launched the Channel 29 TV Station in Minneapolis.
Diving even further into Koker Sr.'s life, we learned that he worked with the 10th Special Forces Group stationed in Germany as a Green Beret. Danny's father was born in Detroit on the 17th of December 1933.
Danny Koker Television shows.
The Count's 77 musician has appeared in several TV shows over the years. His most notable stint on television came with the start of 'Counting Cars.' The series followed Danny and his team as they set about restoring some vintage cars and motorbikes.
Counting Cars enjoy a vast reach across 160 different countries. They even have fans reaching out to them from India. So far, the show has eight seasons under its belt, with just under 200 episodes available on their network.
The very first episode saw him get a visit from his Pawn Stars friend, Richard Harrison. He brought them a '68 Mustang Fastback to work on. After a while, Danny even transitioned to become an executive producer on several episodes.
The Counting Cars star has additionally featured on several other shows. These include: All You Need to Know: SEMA, American Restoration, The Weekend in Vegas and Criss Angel Mindfreak. Income from TV shows add up to Danny Koker Net Worth.
Danny Koker Married to Wife Korie Koker.
Yes, Danny is a married man. He tied the knot to Korie Fera in 2015. The two reportedly met back in Las Vegas, Nevada. They found that they shared a common interest in both business and music.
After dating for a while, they decided to get married. It was a quick ceremony, with barely anyone in attendance. 8 years later, the couple is still going strong. They have no children at the moment.
Korie has been quoted saying that her husband is an essential source of support and the reason why she has continued experiencing success in business.
A mini-bio on Danny Koker's wife, Korie Fera Koker.
Korie Koker was born on August 8, 1965, in Las Vegas, Nevada. She is 58 years old, making her a year younger than her husband, Danny. She came to fame after her relationship with the Count's 77 lead singers.
Korie's career exploits entail working as an Entertainment Director at Vamp'd Rock Bar. When Korie was younger, she worked as a cinematographer before later transitioning to a production coordinator. Looking even further, we learned that she wanted to be a musician. She and a few friends even went as far as forming a band.
Unfortunately, she did not enjoy the same amount of success that her husband did. While she still does sing regularly, it is mostly just for fun and as a hobby. Korie played a crucial role in the formation of Count's Vamp'd, a bar and a grill joint. It gives her and the customers a chance to enjoy some classic rock music.
Her Social media.
A look at her Instagram handle tells us that she has a following around 1260. Just from her page, we can see how supportive she is in regards to his career. She regularly posts pictures that promote Danny's band. Even though she doesn't have a substantial audience, she uses all her clout to get the word out whenever Count's 77 are playing.
She is also an animal lover, evident by the several cat posts that can be found on her page. Her latest post on Twitter featured a condolence message she had issued to commemorate an elderly couple who had succumbed to COVID-19.
Danny Koker Death Rumors.
A few years back, rumors started circulating that the Count's 77 frontrunners had died. Is there any truth to this? Well, the answer is no. Danny is still alive and kicking. We are sure because of the social media posts he still makes. In addition to this, we learned that he continues to work on his reality television show.
So where did the confusion come from? Well, you see, it was a simple case of mistaken identity. Danny shares the same name as his father, who passed away on the 17th of February 2008. Besides having the same name, the two also share quite a few similarities.
Both father and son were musicians, for instance. After Danny Koker Sr.'s death announcement was posted online, quite a few people mistook him for his son.
Danny finds it hard to operate his father's cars.
The 59-year old rockstar's late father left behind quite an impressive collection of cars. Danny inherited all of these classic cars after his old man's departure. Being a restoration expert, a lot of people expected Danny to work on them and get them running quickly. However, this is not the case.
In an interview he did two years back, the Count's 77 frontrunners had not touched any of the cars yet, a full decade after his passing. It is clear that his father's death still weighs heavily on him. The vehicles still elicit strong memories, memories he is not quite ready to let go of.
For now, there have been no reports as to whether he has fixed up these cars or not. We can assume that they'll stay in his collection for a long time because of their sentimental value.
He does not like environmentally friendly cars.
Danny has no issue with anyone who wants to go green. After all, car companies these days have set aside significant time and resources to make environmentally friendly vehicles. These include models like the Toyota Prius, which was created to reduce the owner's carbon footprint.
While cars like these are suitable for the earth, the Counting Cars reality star does not like them at all. In an interview he did for the Morning Show, Danny said that he'd never considered buying one.
There have been some mistakes in the show.
Danny Koker is human at all! Over the years, some fans have pointed out a few mistakes he has made. Most of these are factual mistakes about some of the vehicles on his show.
For some reason, people expected him to be an encyclopedia on cars. But no one can be right all the time, and even though it impacts his credibility, Danny always owns up to his mistakes.
Slipping up once in a while is natural as human beings are bound to errors every so often. So let's give the man a break!
His controversial friendship with Vince Neil.
Danny has an excellent relationship with fellow musician, Vince Neil, who is the lead singer for Motley Crue. Not all of his friends are happy about this, however, as Vince's infamy is legendary! He has been brought to court on multiple occasions because of domestic violence.
As the old saying, show me, your friend and I will show you who you are.
Whether or not Danny intends to heed this advice remains to be seen. We will keep you posted.
He is the proprietor of Count's Kustom.
Danny's shop is renowned for its work on car restoration. It deals with upholstery, frame-up, builds, paint jobs, and services. The auto-body garage is littered with workers with razor-sharp focus and the creativity to match.
Remarkably, what he started as a hobby, went on to become one of the best customization shops in the country. The place is sponsored by the likes of Matrix, Flaming River, Dakota Digital, and Classic Instruments.
In one of his many interviews, Danny said that he had about 45 people in his employ who work around the clock. They handle about 15 projects at a time if he is to be believed. Things have not always run smoothly at the auto-shop.
Back in 2016, Joseph Frontiera, a former employee, came under fire after he was accused of stealing from the company. Reports suggest that Joseph took $75,000 out of the company to buy not only a car but also a plane ticket. In addition to these accusations, it was also alleged that he had not paid the IRS on time.
Danny's company further went on to sue the company Randstad Professionals that had recommended Joseph Frontiera in the first place.
He also owns a bar.
Another income source for Daddy Koker's net worth is his bar. Danny and his wife set up Count's Vamp'd Rock Bar & Grill about 4.5 miles off the Las Vegas strip along West Sahara. The establishment offers its clientele the opportunity to enjoy a decent meal over beautiful sunset.
They also have an outdoor patio and an area specifically designated for live music. As a consequence of the COVID-19 outbreak, the establishment is currently closed until further notice.
Haggling became a hassle after his show's success.
It was to be suspected as most people associate success with money. As such, the more popular Danny became, the more he is expected to pay more than the average buyer. Car owners are aware of the Count's 77 star's financial power, and therefore want to get the most lucrative deal out of him. It has impeded him from bargaining almost entirely as potentially sellers haggle fiercely.
Danny is a fan of the Horror genre.
Back in the day, Danny was the host of the show titled 'Saturday Fright at the Movies.' It hinted at his possible love for the genre. When further questioned about it, he said that he regularly watches the AMC show, 'The Walking Dead.'
Just from the name alone, we are sure you can deduce that this is not a show you'll want to watch alone at night. Some of his favorite films include movies like The Shining, Dracula, Nosferatu, and Theater of Blood.
Danny Koker's Wiki-Facts.
| | |
| --- | --- |
| Full name | Daniel Nicholas Koker II |
| Age | 59 years old |
| Date of Birth | January 6th, 1964 |
| Place of Birth | Cleveland, Ohio, USA. |
| Profession | Entrepreneur, Car restoration expert, Reality television personality and host |
| Net worth | $13 million. |
| Partner | Korie Fera Koker |
| Kids | 0 |
| Nationality | American |
| Ethnicity | Caucasian |
| Zodiac Sign | Capricorn. |
| Parents | Danny Koker Sr. and Mary Koker |