Mike Brewer is a television personality, car dealer and entrepreneur. His face is synonymous with the British Rally Championship on Sky Sports, which he hosts.
The British Car Dealer's run on television came fortuitously. He picked up a phone at random and found himself at the end of a conversation with a T.V producer.
Besides television, Mike additionally dipped his foot in business as well. He set up Mike Brewers Motors eight years ago, and it has grown into a successful business. Learn about his net worth and meet his wife.
Who is Mike Brewer?
Mike Brewer is an English reality star and the face of Wheeler Dealer. The show follows Mike in his search for cheap bargains and old classic cars.
When he finds promising used vehicles, he passes them on to his partner, Ant Anstead. The latter oversees their renovation before they are sold at a hefty profit.
He started alongside Edd China back on October 7th, 2003. In the very first episode, Mike can be seen teaching people how to sell cars and maximize their profits. The British Wheeler Dealer has featured in all 216 of the show's episodes.
Customizing cars is something that runs in the Motor Trend reality star's blood. Mike started following in his father's footsteps when he was just a teenager.
Once he ventured into the motor trade, his rise was gradual. Not only did he run the largest four-by-four garage in the South of England, but he had also started bringing in vehicles from outside the country.
In no time at all, Mike Brewer had established himself as fast-talking and quick to wit businessman. He embarked on his television after a combination of luck and his charm. After a conversation with a network producer, he signed on to host "Deals on Wheels." The show ran from 1997 to 2001, enjoying a 5-year run.
2010 saw him expand his horizons on "Frontline Battle Machines." It featured the savvy British entrepreneur's trip to Afghanistan, where he went on to examine military-grade machinery. Things took a turn for the worse when Mike was caught up in the enemy fire. Though it undoubtedly gave him PTSD, the Motor Trend Television host gained a lot of respect and fans from all over.
Over the years, he has picked up a plethora of awards. These include Two Broadcast Journalist of the Year Awards and Royal Television Society's Best InVision Personality Award.
Mike Brewer's Age, Date of Birth. Parents.
The Seesaw Charities Ambassador was born on August 28th, 1964, in Lambeth, London. He is the son of Roger Wilks and Doreen Fitzgerald. Mike is 59 years old at the moment. His logical, practical, and systematic in their approach to business is a good reflection of his traits as a Virgo.
Roger Wilks, his father, was quite popular back in the day. A lot of people in their hometown had their cars customized by him. Perhaps the thing that cemented his popularity was his ownership of the Pinball Wizard, a classic vehicle coveted by many.
Mike Brewer's Net Worth.
To date, Mike has featured in over 11 different shows. Sources say that a television host can make as much as $150,000 a year. The Wheeler Dealer star has hosted four various shows. These include the likes of "World of Cars" and "House Race."
In addition to television, the House Race host has also flipped a few houses. When he was 19, for instance, he purchased a single room flat in Hackbridge, Surrey, for about £50,000. It was a converted flat with an okay garden. He restored and repainted it with little to no money before flipping for £70,000. It made him a £20K profit in the process!
His restoration business also fetches quite a pretty penny. One of the most profitable deals he made was the sale of the newly restored Lamborghini Urraco P250S, which was auctioned for £35,000. By 2020, Mike Brewer has recorded a net worth of $1.5 million.
Car collection and House.
Having gotten this far in the story, we can assume that you have picked up on Mike's love for cars. It is a passion that, as we mentioned, stemmed from his childhood. So, what type of vehicles does the Motor Trend star own?
Well, most of these vehicles are refined vestiges of different eras. His garage encompasses cars like a 1972 Citroen SM, 1968 Chevrolet Camaro,1967 Ford Mustang Fastback, 1959 MGA, 1960 Bedford CA Van, 1917 Ford Model T Coupe, and a 1976 Porsche 912 E.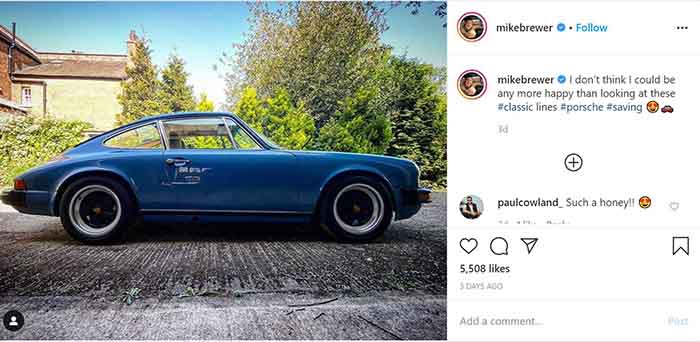 Interestingly enough, Mike Brewer acquires his vehicles from the most unusual sources. Some cars in his person have come from supermarket notice boards of all places! Presently, Mike and his family reside in a four-bedroom property in Warwickshire, England.
Is Mike Brewer married to a wife? Children?
The former "Deals on Wheels" host is married to a woman named Michelle Brewer. While we are not entirely sure when they met, we can confirm that they tied the knot sometime back in 1992. After over 31 years of marriage, they have just one daughter, Chloe Brewer, together.
Several of Michelle's social media posts are engineered to promote her husband's business. What this tells us is that she is a very supportive wife.
Mike Brewer's Wife, Michelle Brewer Wiki, and Biography facts.
Michelle Brewer celebrates her birthday on July 9th. The exact year she was born remains unknown. Much like her husband, she shares a passion for classic cars and plays a significant role in marketing wheeler-dealers. From her Instagram handle, we can tell that she is a brand ambassador for Wheeler Dealers.
We also learn that she is quite a good baker. Just recently, she uploaded a picture of a homemade carrot cake.
Mike Brewer Motors and its location.
The auto shop's proprietor grew up surrounded by cars. His father loved them, and so did everyone else around him. It came as little surprise when he decided to venture into an auto-mobile related career path. He had one singular mission going into this, and it was to the best used car dealership in the country.
Although they were used, Mike wanted to develop luxurious and quality products that could still fetch a premium rate in the market. To this effect, he officially opened the first 'Mike Brewers Motors' Used Car Dealership back in 2013 in Sheffield.
The business proved to be a booming success, so that three years later, he was launching his second location in Luton. In no way was Mike Brewer done expanding as another three years saw him grow the business further. This time, they set up shop in a town called Dunstable.
As of 2020, his branch of dealerships has over sixty employees. They also have about 450 luxury and Premium vehicles available for purchase. In addition to selling vehicles, they also buy used cars from clients who want to part with their automobiles. One of the company's main selling points is that it offers competitive, no-obligation car valuations.
A Look at Mike Brewer's Social Media.
Mike has about 214,000 followers on Instagram. His page reveals that he is not only a TV host but also a Seesaw Charities Ambassador. One of his latest posts features a classic blue 76 E 1 model Porsche. We can't help wondering if it is a new car he has acquired?
The Wheeler Dealer host also uses this platform to promote new episodes of his on-coming shows.
Mike Brewers Wiki-bio.
| | |
| --- | --- |
| Full name | Anthony Richard Anstead. |
| Age | 59 years old |
| Date of Birth | August 28th, 1964 |
| Place of Birth | Lambeth, London, UK |
| Profession | Car restoration expert, Owner of Mike Brewer Motors, Television host |
| Net worth | $1.5 million. |
| Partner | Michelle Brewer |
| Kids | 1 (Chloe Brewer) |
| Nationality | British |
| Ethnicity | Caucasian |
| Zodiac Sign | Virgo |
| Parents | Doreen Fitzgerald and Roger Wilks |