Diesel Brothers is an American Automotive Reality show which is aired on Discovery Channel. It mostly features Heavy D and Diesel Dave, who look like real brothers but funnily enough are not. The reality TV show has not won any awards yet, but it is among the best automotive shows on Discovery Channel.
It has also had to go through lawsuits and complaints. Aside from Television, they have their own YouTube channel. In this article, we will discuss every single detail about Diesel Brothers; the cast, their salary, net worth, and the businesses they have going on.
About the show.
The Reality show first aired on 4th January 2016. So far, it has a total of 8 seasons. How did the show come to be? Well, it started with two good friends from Utah, Diesel Dave, and Heavy D. The two friends and their crew repair and restore high powered diesel trucks, which they later sell to make huge profits. Other cast members include Keaton Hoskins and Josh Stuart.
Diesel Brothers also gives them a platform to advertise and grow their brand. They also have an online website where they sell different types of merchandise. Diesel Brothers has three separate entities: DieselSellerz, Diesel Power, and Sparks Motors.
Like any other show, Diesel Brothers has caused a lot of heated discussions. They were once accused of getting car parts and labor illegally. However, they denied the accusation. Diesel brothers were also fined over $800k for selling cars that pollute the environment after doctors in Utah sued them.
Can you imagine that the business owners also made a book out of it? Heavy D and Diesel Dave published the book, "Diesel Brothers: A truckin' Awesome Guide to Trucks and Life." The book was published on 29th August 2017. In the book, they talk about how they started their business and how it grew.
Location: Where is "Diesel Brothers" Located?
Diesel Brothers is mostly filmed at the headquarters of DieselSellerz in Woods Cross, Utah.
Diesel Brothers Cast and their Net Worth.
Heavy D.
He was born as Dave Sparks on 18th June 1977. Heavy D has always been interested in cars and engines since he was a young boy. That was how he got the Nickname Heavy D, which suits him now.
He took up an Auto Mechanics class in high school, where he learned a lot about welding and fabrication. After his graduation, he was given a job by his mentor, Rich Eggett. Heavy D worked as a manager at Rich's rental business, ATV & Motorcycles.
Diesel Brothers cast Heavy D attended Weber State College but did not complete his studies; he wanted to open his own business. But first, he worked at his uncle's construction company, where he dealt with heavy equipment.
Meeting his friend, Diesel Dave, changed their lives completely. Soon after they met, they began their own business, DieselSellerz, which was then featured to be on Discovery Channel.
Dave has an estimated net worth of $2 million. This is due to his successful business, which has also been aired on TV for quite a while now. You must also be wondering how much he makes from the show.
It was rumoured that he makes about $20k in every episode. Aside from that, he earns from the cars that they restore and sell. Dave Sparks is a married man. His lovely wife is Ashley Bennet, and they have four children together.
Diesel Dave.
Like his buddy, Heavy D, Diesel Dave shares a name with him. His real name is Dave Kiley. He is a car builder and an entrepreneur who made his debut on the reality show. He was brought into the world on 17th June 1974 in Utah. Diesel Dave has also been interested in cars since his young age.
He has worked on diesel vehicles since he was a teenager. Dave moved from garage to garage, gaining valuable experience in the process. You must be wondering how Diesel Dave first met Heavy D. They met in church when they were both attending a single youth's meeting.
Their friendship began when they realized that they had so much in common. Soon enough, they started their business. Not only does Dave build cars, but he also does repairs. He is the guy who can turn old useless diesel trucks into brand-new working diesel trucks.
How about his family? Dave is married to Susan Kiley, and together they have three children. There are a couple of pictures of his wife and children on social media. Coming to his net worth, Dave Kiley is estimated to have a net worth of $8 million. Like Diesel Dave, Kiley also makes about $20,000 in every episode.
Diesel Brothers Cast: Keaton "The Muscle" Hoskins.
Hoskins, aka The Muscle, was born on 5th September in Kaysville, Utah. He has not disclosed his birth details; however, by looking at him, we can tell that he is in his mid-forties. Diesel Brothers cast The Muscle has an estimated net worth of $500k and makes $20k from Diesel Brothers in every episode. Keaton has been on the show since the start.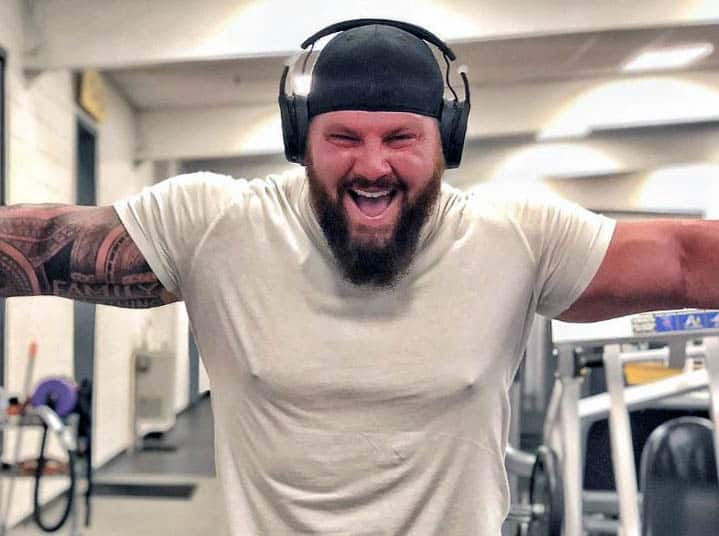 Aside from working at Diesel Brothers, he also works as a fitness instructor, which would explain his muscular body and his nickname. Keaton is currently dating Maime Reeder after he divorced his wife. He also has two daughters with his ex-wife Jenny.
Josh "RedBeard" Stuart.
Stuart is well identified as RedBeard on the reality show, Diesel Brothers. RedBeard grew up in a small town in Roosevelt, Utah. Most people in Roosevelt drove trucks. This is why Josh grew up loving trucks at a young age. Before his career on screen, he was a businessman who dabbled with several enterprises.
RedBeard is the mastermind of the show's success. His work is to organize and grow the business which he is good at. Without him, Diesel Brothers would not be doing as well as it is now. Aside from that, he keeps the crew in check by pranking them from time to time.
It was rumored that RedBeard had not been seen in the fifth season on the show. That kept the fans worried and asking tons of questions on his whereabouts. But nothing to worry about, as far as we know, he is still part of the show.
Sorry ladies, Diesel Brothers cast RedBeard is already taken. Josh is married to a beautiful brunette, Cassidy Stuart. Together, they have four adorable children. The cutest thing is that Josh loves posting a lot of pictures of his wife and kids.
Even though he loves cars, his family is and will forever be his rock and roll. Josh has an estimated net worth of $900,000, and he also earns $20,000 in every episode of the show.
Diesel Brothers Merch and Business.
Aside from restoring and selling cars, Diesel Brothers also have an online site where they sell their merchandise, Diesel Power Gear. They sell stuff like T-shirts, hats, phone cases, gift cards, leggings, hoodies, and some car parts. Another site where you can buy various merchandise is 'REDBUBBLE.' You can find different apparel for women, men, and children.
They also have another site, which is only meant for selling trucks, DieselSellerz. For instance, they sell a 2018 Jeep Wrangler Sahara Unlimited at $43,750, which seems like an okay price compared to buying from a manufacturer.
As you know, the Diesel Brothers are fond of giveaways. Many people who watch the show would do anything in their power to get their hands on a free truck from Diesel Brothers. However, there's a small catch if you want to participate in the giveaways. You must at least buy something from their site. That there is an excellent way to make more money in a business. No wonder Diesel Brothers is doing quite well.
Diesel Brothers' Net Worth Table.
| | | |
| --- | --- | --- |
| Cast | Real Name | Net Worth |
| Heavy D | Dave Sparks | $2 million |
| Diesel Dave | Dave Kiley | $ 8 million |
| RedBeard | Josh Stuart | $900,000 |
| The Muscle | Keaton Hoskins | $500,000 |
One noticeable thing about the Diesel Brothers is that they all have long beards. Apart from that, they have all been married, and they have children. We also learn that the cast knew one another way before Discovery Channel gave them a show of their own. That is why they work together in harmony and get along quite well on screen.
Social Media.
The TV show has two social media accounts to advertise their show and their actual business.
Instagram- "@diesel.brothers" with 982k followers
Twitter- "@DieselBrosTV" with 55.5k followers.
Their official page is full of pictures of trucks that they have worked on. There are also plenty of photos of the Diesel Brothers' crew.