Pompa is a reality tv personality and former employee at Martin Bros Customs. This is an auto-body shop that is based in Austin, Texas. For several years, Pompa was part of the team that sought to turn heaps of old metal into fully functioning vehicles.
It eventually led to a path on television on the 13th of April 2016. There is a general consensus from fans that the cast of Iron Resurrection is like family. So it came as a surprise when several cast members of the show decided to leave the show. So what happened to Pompa on Iron Resurrection?
Pompa's experience on Iron Resurrection.
Pompa first joined the cast of Iron Resurrection in the first season, during the show's sixth episode. In that particular instance, Pompa helped as the group revived a 1964 Cadillac De Ville that was in terrible shape.
He and the rest of the crew were able to turn the car into a functioning convertible, which they later flipped. Between 2016, and 2020, Pompa was featured on a total of nine episodes.
Shortly after he joined the cast, Pompa took on the role of the clown on the show. He was constantly the butt of several practical jokes, especially since he was easily spooked. A few of his friends even took a great deal of pleasure in using fireworks to torment Pompa.
What happened to Pompa on Iron Resurrection?
When the fourth season of Iron Resurrection aired, fans were quick to notice that several members of the show were not present.
In total, four cast members left the series; these included the likes of Javier 'Shorty' Ponce and Cato. Both men revealed that they had taken to step back to focus on their families.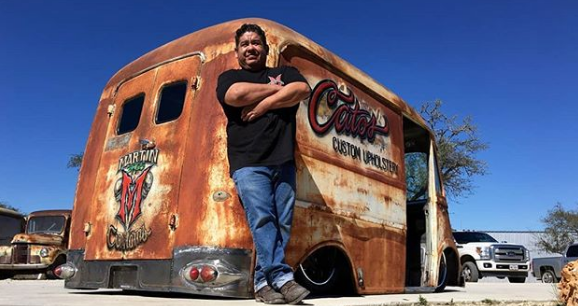 Working in the garage, and on television proved quite demanding. They were essentially working around the clock to not only film the series, but also fix the cars in the garage.
As such, their departure from the series was quite understandable. However, one cast member remained quiet when questioned about his absence.
We are, of course, talking about Pompa. Because he didn't want to talk about his departure, several rumors emerged regarding his absence.
The most common rumor was that he had fallen out with his Iron Resurrection co-stars, as well as the show-runners.
This was because of all the pranks and jokes that were made at his expense. However, there is no evidence to support this theory. Fans of the show know that Pompa always took every joke on the chin, even laughing about it in the process.
Additionally, his Instagram account also reveals that he had a great time on the show. As such, he is still on good terms with everyone.
The most plausible explanation is that he also felt drained after four seasons of the show. Pompa probably wanted to take some time off for himself, and his family.